Sightseeing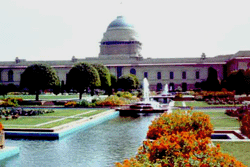 Rashtrapati Bhawan
Modern New Delhi, or New Delhi as it is called, centers around the Rashtrapati Bhawan. It is architecturally a very impressive building standing at a height, flowing down as it were to India Gate. This stretch called the Rajpath is where the Republic Day parade is held.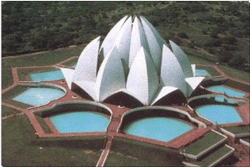 Lotus Temple
The Lotus Temple, situated in South Delhi, is shaped like a lotus. It is an eye-catching edifice worth exploring. Built by the Baha'i community, it offers the visitor a serenity that pervades the temple and its artistic design.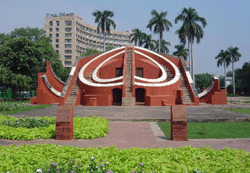 Jantar Mantar
Jantar Mantar is the ancient clock through which people used to keep track of time according to the various positions of the sun.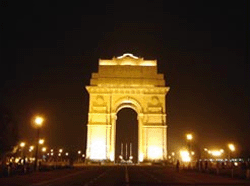 India Gate
A memorial inscribed with the names of the valiant Indian soldiers who laid down their lives in World War I. The green, velvety lawns at India Gate, particularly, are a popular evening and holiday rendezvous for young and old alike. A must visit place in New Delhi.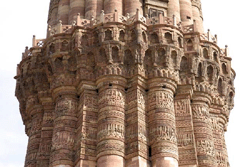 Qutab Minar
The Qutab Minar is located at a small village called Mehrauli in South New Delhi. Qutub-ud-din Aibek of the Slave Dynasty, who took possession of New Delhi in 1206, built it. It is a fluted red sandstone tower, which tapers up to a height of 72.5 metres and is covered with intricate carvings and verses from the holy Qur'an.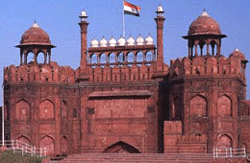 Red Fort
Red Fort- a fascinating building, built with red sandstones is an example of the rich Mughal architecture. Red Fort is a venue to the Independence Day parade of India.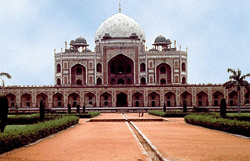 Humayun's Tomb
Humayun's Tomb was built nine years after Humayun's death by his wife Haji Begum. Designed by a Persian architect named Mirak Mirza Ghiyas, and completed in 1565, the edifice was a trendsetter of the time. It is said that all later Mughal monuments, including the Taj Mahal, followed its design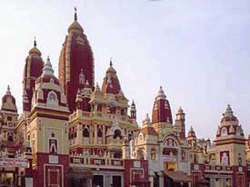 Birla Mandir
Also called the Laxminarayan Temple, the Birla Mandir was built by the Birla family in 1938. It is a temple with a large garden and fountains behind it. The temple attracts thousands of devotees on Janmashtami day, the birthday of Lord Krishna